Talk of Puglia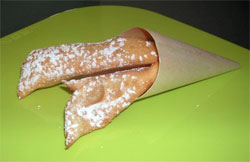 This is a recipe handed down from generation to generation, my mother gave it to me and I give to you.
The doses given are for a small party we are many!
FrAnMe
* * * * * * * * * * * *
Put the flour in a large bowl, enlarge it and put sugar, salt, lemon grater, the eggs 1 at a time and slightly beaten; always a little at a time, add the cognac. Mix to form a dough with pizza dough type consistency: should be soft but not sticky.
Put the dough on a work surface and pull a thin sheet then you cut into long narrow strips: you decide the length and width but remember that oil is gonfieranno. In a large pan and heat very large frying oil: the chatter must float. When the oil is hot add a bit at a time the chatter. When they are golden brown, drain on paper towels and dust with icing sugar.
a
They're called talk because the oil swell: i.e. a Word, then the other and the other still and chat becomes a mega distorted and untruthful news.
Presentation
In the photo, to present the chatter during a small party, were used with single-portion, bamboo Decorfood products (the company that produces and distributes also < a href = "carta-fata.htm" title = "Carta Fata" > Carta Fata ).
License
This recipe is published under Creative Commons License • You can copy, print, reproduce it for purposes other than business and always quoting the author and the source • www.cooking-better.com
Leave a comment or write a review for this recipe.
Your opinion is important for us!
Other recipes (in alphabetical order)